Local governmental organizations are under immense pressure to do more with less while maintaining and improving their community services. Boosting employee engagement levels can aid in their challenge. Research has shown a strong link between the organization's performance and employee engagement. So, when local governmental organizations perform well, the public has more support and confidence for them.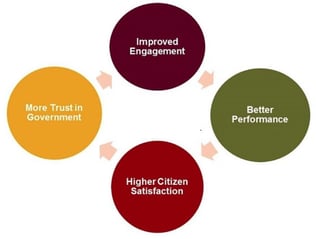 Source: https://www.td.org/insights/employee-engagement-low-especially-in-government
What is meant by "employee engagement" anyway?
Engaged employees bring their full selves to their job every day, finding their work meaningful and rewarding. They feel connected and committed to their co-workers, organization, and its mission. They know their purpose, where, and how they fit into the organization.
High engagement has been correlated with nearly every important measure of organizational health -- productivity, retention, safety, etc. To sum it up nicely, an "engaged employee wears it on their face, demonstrates it in their work attitude, and in their workplace communication."1
Here are some workplace and cultural trends that are having the biggest impact on employee engagement in 2018.
Millennials Will Continue to be a Challenge
As baby boomers retire, and more graduates start their careers, millennials are on the rise. In 2015, millennials became the largest generation in the U.S. workforce.1 Employers will need to tailor their employee engagement strategies to this group including generational messaging. Research has shown that millennials like a great work culture, open communication, achieving purpose and fulfillment, and involvement with causes.
More Compassionate Leadership
Let's say you have a boss who is a terrible listener, a bad communicator, unavailable, doesn't praise or encourage you, or takes credit for your work. How engaged are you going to be in the workplace?
What happens when your boss is the exact opposite? Their door is always open, they value your opinion, allows you to grow, praises your work, and encourages you. According to research by leadership development experts Dr. Brad Shuck and Maryanne Honeycutt-Elliott, "higher levels of engagement come from employees who work for a compassionate leader—one who is authentic, present, has a sense of dignity, holds others accountable, leads with integrity, and shows empathy".1
Organizations and its leadership will continue to make strides in fostering team development, valuing employee ideas, providing consistent feedback, and rewarding good performance.
More Employee Feedback
Timely, helpful, and specific feedback can aid in an employee's personal improvement and increase their engagement level. An employee is 2x as likely to be actively disengaged if they are ignored by their manager/leader.
According to Officevibe, 82% of employees enjoyed receiving feedback, regardless if it was positive or negative.2 Forty-three percent of highly engaged employees receive feedback at least once a week compared to only 18% of employees with low engagement.2 And there's a 14.9% lower turnover rates in companies that implement regular employee feedback.2
Is there such a thing as too much feedback? Sixty-five percent of employees said they wanted more feedback although 58% of managers think they give enough.2
Look for employers to continue to use advanced metrics and data to measure employee engagement and receive employee feedback.
Work/Life
We all have a life outside of work. Sometimes it's a struggle to find balance between the two. Employers are moving towards a Work/Life Blend instead of a Work/Life Balance. This means being more flexible and integrating your work and life together. Having greater control can help employees to reduce the stress of conflicting schedules and responsibilities.
1 https://www.15five.com/blog/7-employee-engagement-trends-2018/
2 https://www.officevibe.com/blog/infographic-employee-feedback
National Insurance Services is not a law firm and no opinion, suggestion, or recommendation of the firm or its employees shall constitute legal advice. Readers are advised to consult with their own attorney for a determination of their legal rights, responsibilities and liabilities, including the interpretation of any statute or regulation, or its application to the readers' business activities.